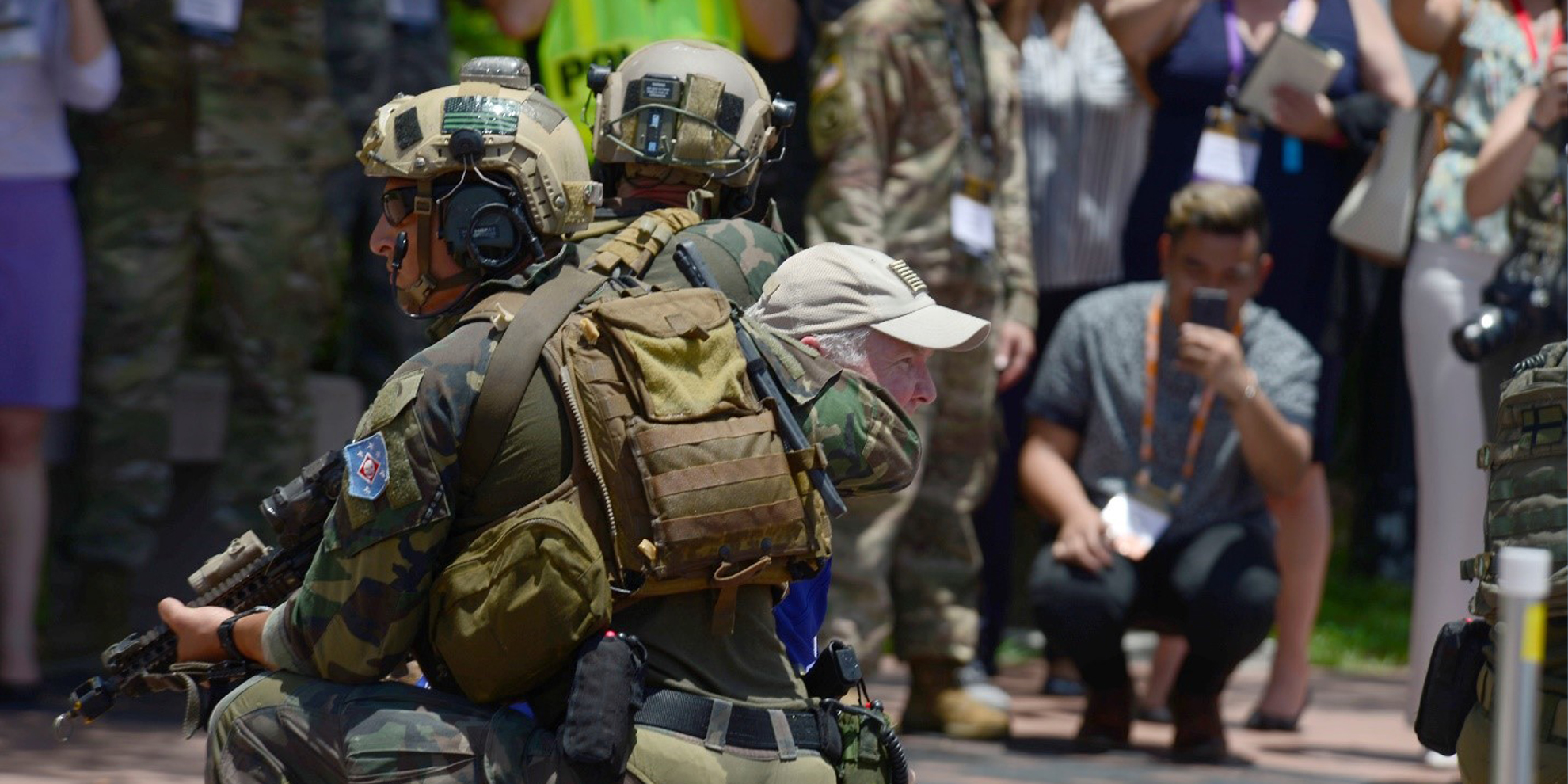 US Army Special Operations Demonstration
The United States Army Special Operations Command (Airborne) (USASOC) is the command charged with overseeing the various special operations forces of the United States Army. Headquartered at Fort Bragg, North Carolina, it is the largest component of the United States Special Operations Command. It is an Army Service Component Command. Its mission is to organize, train, educate, man, equip, fund, administer, mobilize, deploy and sustain Army special operations forces to successfully conduct worldwide special operations.
The 
 1st Special Forces Command (Airborne) is a division-level special operation forces command within the US Army Special Operations Command.[6] The command was established on 30 September 2014, grouping together the Army special forces, psychological operations, civil affairs, and other support troops into a single organization operating out of its new headquarters building at Fort Bragg, NC.
Special Forces Groups
[
edit
]
Established in 1952, the Special Forces Groups, also known as the Green Berets, was established as a special operations force of the United States Army designed to deploy and execute nine doctrinal missions: unconventional warfare, foreign internal defense, direct action, counter-insurgency, special reconnaissance, counter-terrorism, information operations, counterproliferation of weapon of mass destruction, and security force assistance.[7] These missions make special forces unique in the U.S. military because they are employed throughout the three stages of the operational continuum: peacetime, conflict, and war.[8] Often SF units are required to perform additional, or collateral, activities outside their primary missions. These collateral activities are coalition warfare/support, combat search and rescue, security assistance, peacekeeping, humanitarian assistance, humanitarian de-mining, and counter-drug operations.[8] Their unconventional warfare capabilities provide a viable military option for a variety of operational taskings that are inappropriate or infeasible for conventional forces, making it the U.S. military's premier unconventional warfare force.[8]