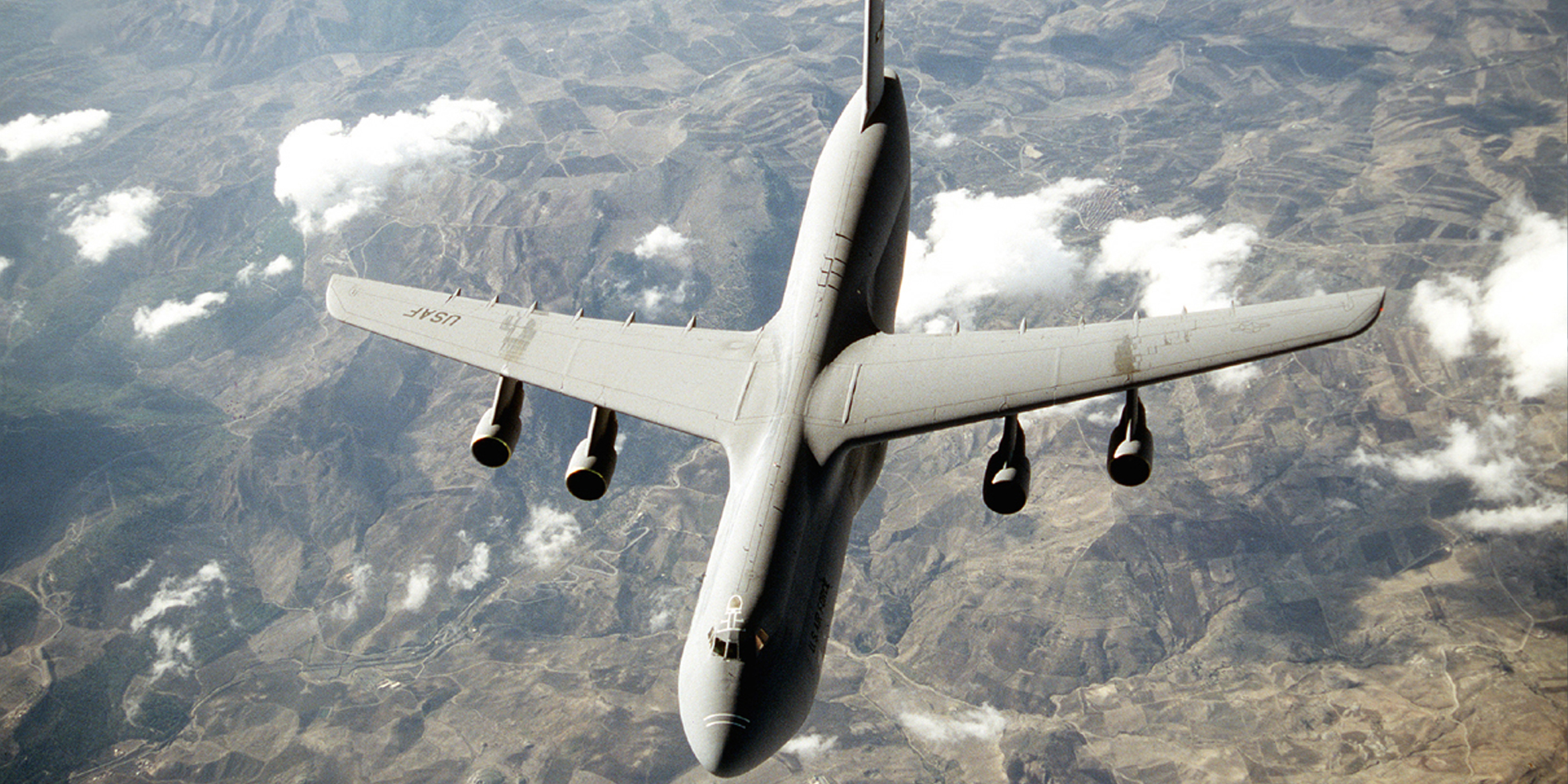 USAF C-5 Galaxy
The Lockheed C-5 Galaxy is a large military transport aircraft originally designed and built by Lockheed, and now maintained and upgraded by its successor, Lockheed Martin. It provides the United States Air Force (USAF) with a heavy intercontinental-range strategic airlift capability, one that can carry outsized and oversized loads, including all air-certifiable cargo. The Galaxy has many similarities to the smaller Lockheed C-141 Starlifter and the later Boeing C-17 Globemaster III. The C-5 is among the largest military aircraft in the world.
The C-5 Galaxy's development was complicated, including significant cost overruns, and Lockheed suffered significant financial difficulties. Shortly after entering service, cracks in the wings of many aircraft were discovered and the C-5 fleet was restricted in capability until corrective work was completed. The C-5M Super Galaxy is an upgraded version with new engines and modernized avionics designed to extend its service life beyond 2040.
The USAF has operated the C-5 since 1969. In that time, the airlifter supported US military operations in all major conflicts including Vietnam, Iraq, Yugoslavia, and Afghanistan, as well as allied support, such as Israel during the Yom Kippur War and operations in the Gulf War. The Galaxy has also been used to distribute humanitarian aid and disaster relief, and supported the US space program.
CX-X and Heavy Logistics System
[
edit
]
In 1961, several aircraft companies began studying heavy jet transport designs that would replace the Douglas C-133 Cargomaster and complement Lockheed C-141 Starlifters. In addition to higher overall performance, the United States Army wanted a transport aircraft with a larger cargo bay than the C-141, whose interior was too small to carry a variety of their outsized equipment. These studies led to the "CX-4" design concept, but in 1962, the proposed six-engined design was rejected, because it was not viewed as a significant advance over the C-141.[2] By late 1963, the next conceptual design was named CX-X. It was equipped with four engines, instead of six in the earlier CX-4 concept. The CX-X had a gross weight of 550,000 pounds (249,000 kg), a maximum payload of 180,000 lb (81,600 kg), and a speed of Mach 0.75 (500 mph or 805 km/h). The cargo compartment was 17.2 ft (5.24 m) wide by 13.5 feet (4.11 m) high and 100 ft (30.5 m) long with front and rear access doors.[2] Meeting the power and range specifications with only four engines required a new engine with dramatically improved fuel efficiency.